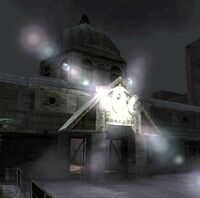 The Carcer City Zoo is an abandoned zoo featured in Manhunt. Formerly a perfect place to make a trip with your family, it used to feature over a hundred different animals from all over the world, and is located in the heart of Carcer City. Lately, it had been ruled by gangs and all the animals have escaped. The zoo includes several zoo shops and toilets. It is thought to be used by gangs as a hideout, and a home for the Wardogs and Monkeys. The Zoo is the setting of the scenes Grounds for Assault, Strapped for Cash, and Monkey See, Monkey Die.
Weapons and Items
Edit
There are some hidden zoo pens you can access with the use of the trainer.
The hippo statues around the zoo are also featured in Grand Theft Auto IV.
The main entrance building in the zoo looks like to be based on the aviary/butterfly house building from the Detroit Zoo.